$2,475.00
$2,750.00
10% Off
Choose a route, any route. With its all-road capabilities and smooth, natural pedaling support, Roam E+ helps you ride smooth roads, rough roads, bike paths, or trails. It's fun, easy, and ready to roll. Engineered with a lightweight ALUXX aluminum frameset and a new SyncDrive Core motor, Roam E+ is all about versatility. Blending the best qualities of a mountain bike and a road bike, it encourages you to explore more adventurous routes. It comes with wider tires and a 63mm suspension fork so you can comfortably ride rough roads or paths. Make the rough roads feel a little smoother and the hard climbs a little easier with the do-it-all Roam E+. All-road capabilities - Powerful SyncDrive Core motor, light and durable ALUXX aluminum frame, and wider tires give you the ability to ride any road, any route. Comfort and control - 63mm suspension fork and wider tires improve comfort and control on rough roads or paths. Longer range - Long-lasting EnergyPak 400 battery allows you to ride farther without running out of power.
$6,999.00 - $8,749.00
$8,749.00
Up to 20% Off
Danny won't stop talking about his new Heckler Danny MacAskill just doesn't stop talking about ebikes. He's infatuated with them. In fact, the only time he's not chewing someone's ear off about how good they are is when he's riding them. And when he's riding an e-bike, he rides and rides and rides. Which is partly why we've made the newest Heckler able to go further, higher, faster, and be funner. Available with mixed MX wheels or as a dual 29er bike, Heckler features a ride-tuned geometry that makes things fun whether going uphill, downhill...or even just flat and fast. Anchoring it all is 150mm of Santa Cruz's legendary Virtual Pivot Point (VPP) suspension that's been paired with a 160mm-travel fork, and tuned precisely for e-bike riding. With slightly less anti-squat to give it glue-like traction on the climbs and poppy maneuverability on the way back down, Heckler smashes the sweet spot for taming big trails on big days. About those big days...the latest generation of the Heckler comes with a long-running 720 watt-hour interchangeable battery that can be swapped in seconds with just a 4mm allen key. This lets riders expand their own trail map, giving access to previously unreachable trails, unlocking lesser-used trails, and cramming more riding into less time. And when you're riding that much, durability is critical, which is why Santa Cruz sweats the carbon layup and frame design, then backs it up with a lifetime warranty on the frame, bearings, and Reserve carbon wheels - 150mm VPP travel - Mixed & 29-inch wheels - 720wh battery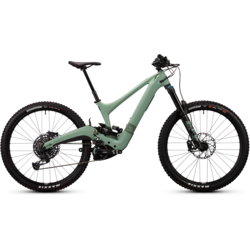 $7,499.00 - $10,999.00
$10,999.00
Up to 32% Off
A whole new sport demands a whole new bike. Built from the ground up to deliver a new level of smooth, fast, and durable performance, the full-carbon-fiber Oso features our first-ever upper-link suspension dw-link platform. It stacks 155mm of rear travel with 170mm up front and is powered by a Bosch Performance line CX motor.